Timber.... the new oil?
After a year of soaring commodity prices, 2010 is forecast by financial analysts to see further increases.
So how about a few quotes from those lovely financial institutions to kick off the New Year?
Investec… "In the first quarter of 2010, more buying is anticipated by consumers and institutional funds increasing their allocation to commodities."
UBS Wealth Management…. "As to broad trends, we think the market should continue to favour commodities with an industrial demand backdrop and structural supply bottlenecks, as well as those with highly concentrated sources of supply,"
Barclays Capital….. "For metals, the uptrend is still very much in place."
So where does that leave lumber prices? I hear you ask.
According to Peter Ruschmeier, a basic materials analyst with Barclays Capital, lumber futures surged between October and November 2009, though the cash price has yet not yet reflected this. Reduced inventories, run down by the credit crunch, will further drive price rises.
In fact, optimism over the prospects for timber prices has been growing steadily over recent months and major new amendments to Chinese building rules have certainly done its prospects no harm at all.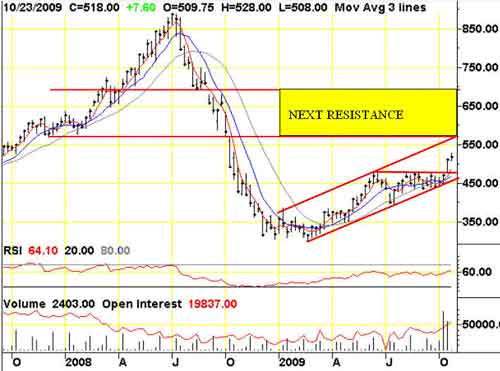 Commodity index recovers to uptrend in 2009
In China, a significant breakthrough in building regulations is confidently being cited as one of the main drivers behind a global surge in timber demand. These new building rules allow Chinese building needs to be met by modern wood-frame construction techniques. Now that may not seem too significant until you realise the scale of things out in China.... 20 million people every year are moving from rural China to the cities and the Chinese national budget has set aside $141 billion (almost €100 billion) for the production of 20 million square metres of affordable housing by 2012.
Some models are suggesting that the predicted mass urbanisation of China over the coming decade could see timber prices increase by over 300 per cent above the 2009 low point. Similar to the run on oil that came in to produce the $150 oil barrel prices in 2008.
China is running a massive supply shortfall of timber, and analysts see no signs of the trend changing at the level of about 160 million cubic metres a year for at least another ten years. According to forestry analysts, China's consumption of timber products is already well above the world average.
John Chu, an analyst with Research Capital Canada, says. "China's insatiable appetite for wood products is driven by its growing population, strong economic growth and growing export markets for the wood it produces."
Many analysts now believe that even greater change is on its way. Roughly 60 per cent of Chinese live outside of urban areas, but this is forecast to change dramatically and drop to 40 per cent by 2030. As a result of the mass migration to urban areas, residential construction will boom yet further, as will the demand for new furniture. Demand pull inflation could drag timber prices higher for many years to come.
What's more, according to Barclays Capital Analysts, the good news is that, if timber is on the verge of a new bull run, the shortest upswing since 1900 lasted 12 years!